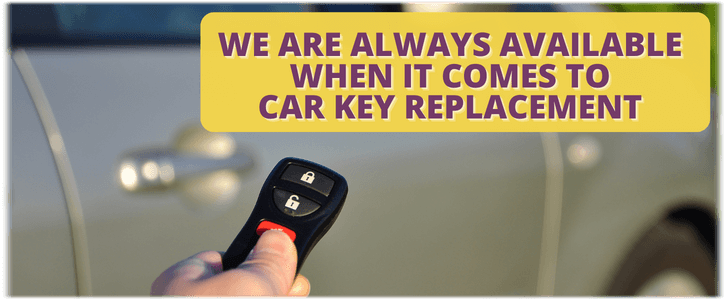 Do you need a car key replacement in Jupiter, FL? From the moment of your first call, we will dispatch our team quickly to take care of the problem. Our technicians are highly qualified to take care of the situation only minutes away. In addition, we specialize in all types of key replacements, from oldest to latest model, any make or model. It has been our policy to keep our staff on top of the latest car key technology in Jupiter, FL. Therefore, we are your perfect choice for auto key cutting. A call is enough for our men to come in a hurry. Also, we copy all kinds of car keys that you might need. You will be glad that you choose to do the work with us. Therefore, when you need to replace a car key, we can provide the most exceptional 24-hour car key replacement service in the city. Please do not hesitate to call us at (561) 571-8282.
Are You Looking for a Mobile Car Key Replacement Assistance?
In today's world, it's all too easy to get distracted and misplace your car key. Having quick service from one of our mobile units to replace it can cut the time it takes to get your car back on the road. Unlike many car key-making shops, each of our services is mobile. Furthermore, the technicians we hired are fully qualified to handle any car key replacement and unlocking in Jupiter, FL, from producing a transponder replacement key to repairing your car's ignition. We take pride in understanding our customers' concerns and responding appropriately. Being mobile has given us a lot of opportunities to serve the people. 
Moreover, there will be no regrets when you choose to do business with us. You are sure to get amazing assistance from our experts. So, don't hesitate to contact our team in Jupiter, FL, and we'll dispatch our crew to your location as quickly as possible.
Trusted Auto Key Service in Jupiter, FL
We are proud to offer our customers a prompt and dependable service 24 hours a day, seven days a week. Our goal is to get you on the road again as quickly as possible. In addition, we pride ourselves on providing car key replacement using only high-tech equipment designed specifically for that purpose. We understand that you do not want just anybody to do the work. So we make sure that our specialist does the auto key cutting. You will be happy and satisfied with how we copy the keys to your vehicles. Also, our lock company has been serving the community for over a decade. We have the experience and the expertise to work for you. There are many choices in the market, but only one of us can do the car key cutting perfectly. 
Furthermore, we have a reputation for providing complete customer satisfaction with all auto key replacement work. So, what are you waiting for? Contact us in Jupiter, FL, for the best car key replacement service
.